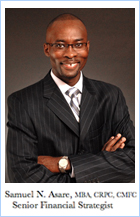 We have helped numerous clients withdraw funds from their "tax-qualified" plans like IRAs, 401(k)s, and 403(b)s with little or no – yes, NO! – income-tax consequences and reposition them into "non-qualified" options that are tax-free, going forward.
Just to be clear, this is not a discussion about tax loopholes. As you will discover shortly, our approaches are based on legitimate choices available within existing laws. Also, we are neither legal nor tax advisors. Our strategies and statements are simply based on a general understanding of current federal tax laws.
The Tax Problems Most Retirees Are Facing
So-called 401(k) experts lure unsuspecting investors with the completely bizarre notion that at retirement, their tax
brackets will somehow be lower. Retirees, however, discover that in real life, that simply is not the case. The reason is that by retirement, the majority of retirees have usually lost most of the valuable deductions and/or exemptions they used to enjoy during their pre-retirement years – pre-tax contributions into qualified plans, mortgage interest payments, and kids as dependent exemptions – all of which reduce their taxable incomes. They therefore reach the stunning realization that although their total incomes have been reduced – as predicted – they are still in the same (or have jumped to an even higher) tax bracket. Taxable income is completely different from total income, after all.
Additionally, income from these plans counts as portfolio income under the Tax Reform Act of 1986 and is therefore included in "provisional income" computations, which means up to 85 percent of their Social Security benefits are exposed to … guess what? Further taxation!
Then, there are those who suddenly realize that at age 70½, IRS rules mandate that they begin making minimum withdrawals from their IRAs and 401(k)s – or face a steep, 50 percent penalty in addition to the income taxes due.
At this point, most retirees begin to wonder whose retirement they were really planning, as they spent all those years contributing to their 401(k)s, 403(b)s, and traditional IRAs.
Our Simple, Common-Sense Solution
There is good news, though. We can teach you how to create legally permissible offsets within the confines of IRS regulations, right on your federal tax returns, that substantially reduce or completely eliminate the tax consequences of your qualified plan withdrawals. So, basically, when you withdraw, say, $10,000 from your traditional IRA, we create an allowable $10,000 deduction right on your federal Schedule A form. As you can see, your taxable income becomes a complete wash – nothing sinister happening here.
We have helped numerous people reposition their assets into alternatives they can access, income-tax free from that point forward – including all their gains – even before age 59½, and without an obligation to repay it. Their withdrawals do not count toward provisional income computations, so their Social Security benefits are not exposed to taxation. Upon death, any remaining funds pass to their named heirs, completely income-tax free!
These non-qualified alternatives do not impose any income limitations, so you may own one, regardless of your income. And our clients find they are not spending any more money than they were spending prior to meeting us. We simply help you reallocate your dollars in a more tax-efficient manner so, at the end of the day, when it matters most, you get to keep YOUR money!
Request your no-obligation consultation so that you can get answers to all of your questions, or call (301) 949-4449.