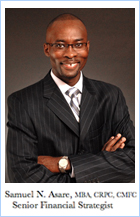 I know, I know. We keep hammering the fact that no one – not even the savviest financial advisor – can predict with certainty the movement of the stock market. We'd like to make one small adjustment to that statement. Here is a prediction that will remain true from today until forever: the stock market will fluctuate.
But when it comes to the exact future movements of the market, no expert on the planet, regardless of the firm they
work for, their years of experience, their proximity to Wall Street, or how good you feel about them, knows what will happen tomorrow or any day in the future. Although some would like you to believe they have a special fortune-telling ability, no one does. No one! So there is absolutely no reason for you ever to gamble and risk losing everything.
Although it's tempting to take those TV talk show guests or Op-Ed authors as prophets worth listening to, they call it "Monday morning quarterbacking" for a reason: almost anyone can assess what went wrong in hindsight. What we find mind-boggling is the fact that usually such predictions are "good" until the next edition of the same program airs or the next issue of that publication is printed, at which time an entirely new set of predictions is unveiled. This is the very reason they are bogus in the first place!
On March 12, 2009, both the Dow and the S&P 500 closed at their lowest points in the past 12 years – wiping out all gains ever made over that period. Did any experts make public predictions that such a thing would happen? Millions have lost the retirement savings it took them years to build; meanwhile, the market continues to – guess what – fluctuate. Chances are good that you have been "advised" to hang in there, plan for the long term, and pursue dollar-cost averaging.
The million dollar question is why investors continue to follow these prediction gods at all. We believe it's because many remain unaware of an investing strategy that guarantees their portfolios will not lose money due to market risk, while still earning competitive returns – based on a stock market index – during the good years. Basically, when the index plummets, you do not lose, but when it does well you participate in the gains up to a predetermined maximum.
Isn't this infinitely better than gambling, putting yourself at the mercy of the stock market without any downside protection, and losing money each time the market declines? Investors must understand that while the market will fluctuate, their retirements are certain; neither they nor their financial advisors can stop the clock from ticking. So isn't it about time your nest egg reflected reality?
To learn more and discover how you can avoid the strings attached to traditional retirement plans, accumulate and withdraw your savings tax-free, avoid paying taxes on Social security benefits, and transfer any remaining funds to your heirs, income tax-free, please call (301) 949-4449 or visit www.LaserFG.com to schedule your no-obligation consultation today!