Samuel N. Asare

MBA, CRPC, CMFC, CLU, CTP, CBM
Principal & Lead Strategist
Samuel N. Asare believes that after a lifetime of hard work, your retirement should be a period of stress-free relaxation, not financial nervousness.

For almost two decades, Samuel's practical and straightforward guidance has successfully enabled his clients to secure their retirements with reliable, consistent income for the rest of their lives, irrespective of what happens on Wall Street.

His superb ability to simplify often-complex concepts through humor and real-world examples from his years of hands-on experience in tax planning, accounting, mortgages, asset-transfer strategies, and treasury management, among others has made him a regularly featured expert in various print, online, radio, and TV media outlets.

Over his exceptional career, Samuel has held several prestigious positions with some of the nation's top financial institutions, trained and mentored hundreds of other financial professionals, authored several books and special reports, designed many retirement workshops, and created instructional videos for investors. He is also the brain behind the acclaimed Proven Common-Sense Wealth Building blog.

Samuel is a principal member of the Maryland Society of Accountants and the Corporate Treasurers Council. He holds an MBA, is a Chartered Retirement Planning Counselor, Chartered Mutual Fund Counselor, Chartered Life Underwriter, Certified Treasury Professional, and Certified Business Manager.

But Samuel offers more than just a wide array of scholarly knowledge, integrity, and practical advice - he also understands the plight of retirees in today's economy. Whether you're retiring in six weeks or have been retired for sixteen years, you'll find that his unique, practical, and common-sense insights will help you take control so that you can count on a truly comfortable retirement.

CLICK IMAGE FOR
YOUR FREE COPY!
Featured Video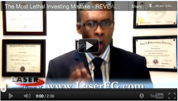 Genius ain't anything more than elegant common sense.
- Josh Billings